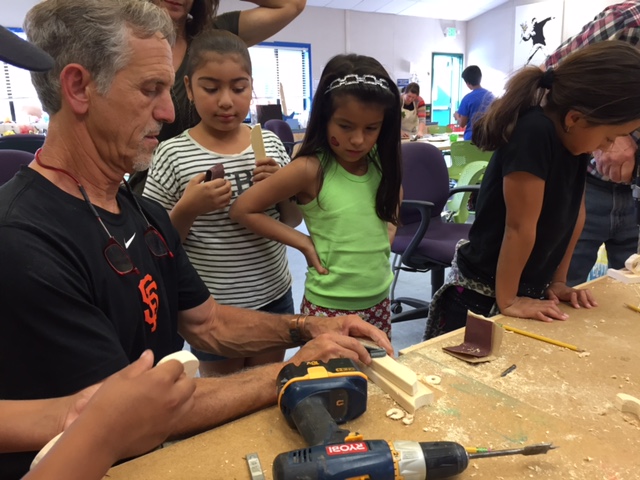 TinkerTech is joining forces with Marin Science teacher Brian Kaplan to offer even more great STEM classes to the students in Marin. With his 25 years in carpentry and 13 years in teaching including setting up the makerspace at San Domenico school, Brian is excited to take his skills on the road with a MOBILE MAKER VAN. Brian will be teaching some of TinkerTech's new Invent and Code classes from the van, as well as helping train new teachers.
TinkerTech mobile maker classes are for children aged 3 to 12 and take place in community centers, recs and schools in Marin, from Mill Valley to Novato. With the addition of Brian's classes in and out of the van, we'll be able to reach even more students. By bringing the classes to the children as after-school enrichment, we'll also be saving parents on a lot of driving around Marin!
TinkerTech's Founder Claire Comins interviews Brian Kaplan here.
CC: We love the idea of your mobile maker van and are so pleased to have you teach classes for TinkerTech! Tell us about the van - what will it have in it?
BK: I am super excited to have a mobile maker trailer set up with everything from basic hand tools to what I call "cool tools." An example of some cool tools are 3d printers, CNC routers, laser cutter and vinyl cutters just to name a few. The air conditioned trailer and shaded outside space will be used during the exploration time.
CC: The mission for TinkerTech classes is always to encourage creativity, innovation and get kids inventing something all of their own. What are the classes you'll be teaching?
BK: I'll be bringing the most popular projects from my woodworking classes at San Domenico into the TinkerTech Invent and Code classes. For Fall, we'll be making toys, games and puzzles - and getting to grips with tech by tinkering in the always-popular take-apart sessions where we see how toys, telephones, VCRs and other home appliances work. When we code, it'll be to add interactivity to projects we are building ourselves.
CC: Best maker project so far?
BK: That's a hard question since there have been SO many fun, interesting projects. If I had to pick one or two building full size wood kayaks from scratch from wood to water in one week is always so fun to see happen with kids as young as 9 years old. Another kid favorite is my custom designed electronic LED wood basketball game.
CC: What do you love about teaching STEM?
BK: What I like the most about teaching a STEM based maker program is knowing that my students are having fun while not realizing that they are engaging in STEM Science Technology Engineering and Math. Also, there are future jobs that we don't even know that will require problem solving,trouble shooting and that Maker projects naturally provide.
CC: What first encouraged you to build with wood and how did this become a job for you?
BK: I first started working with wood as a child building tree forts in the hills of Terra Linda. I really appreciated the flexibility and versatility of this natural resource. After taking shop class in Junior High at vallecito school that I dearly loved I joined my older brother Larry who was a talented woodworker. We worked for various building contractors until starting our own business in the early nineties. In 2000 I decided to go back to school to become a credentialed teacher. All during the four year process I had 3 kids and finished my degree and credential. A side-note is that my brother Larry decided in 2002 to become a doctor and finished his fellowship in 2015 and now is practicing at UCSF. I went on to teach science and making for 13 years at San Domenico School. I also designed and built a 3,000 square foot makerspace. At the end of the school year I left San Domenico to start a new chapter, Craftsmen Kids Mobile Maker.
CC: What's the best experience or story of a student you have from your classes?
BK: Some of my favorite things I've seen happen in my Craftsmen Kids over the past 10 years is seeing the joy of 12 boats get launched in the pool without a single leak. I have always been amazed by my Craftsmen Kids persistence in their projects and hearing that they didn't want to stop after hours of hard fun work! I've also had the opportunity to have students that normally have a difficult time in regular school excel as excellent leaders in my Craftsmen Kids. Many children aren't wired for the typical classroom environment and engage best in these kinds of workshops.
TinkerTech class booking goes lives August 21st. Until then, if you are interested in offering a class in your school or community center, please email Claire via hello@tinkertech.me